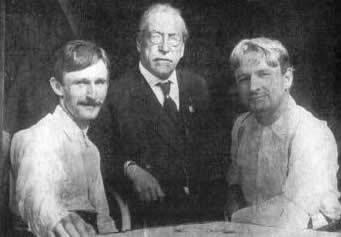 James McNamara , Gompers, and John McNamara , 1911 (Brown Brothers)
On Oct. 1, 1910, an explosion and fire killed twenty people and destroyed the Los Angeles Times building. Calling it "the crime of the century," the newspaper's proprietor Harrison Gray Otis blamed the disaster on organized labor, a charge denied by trade unionists.

In April 1911, however, James McNamara and his brother John , an officer of the International Association of Bridge and Structural Iron Workers , were arrested-- James in Detroit and John in Indianapolis--and charged with murder; John was also charged with involvement in the Dec. 25, 1910, dynamiting of the Llewellyn Iron Works in Los Angeles.